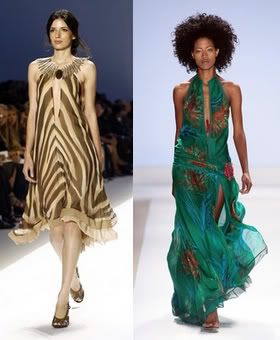 Welcome to Manly Wednesday. You new? You old? I'm a bro, bro... I like designy things. But I can't talk about it 7 days of the week. Need the right to reserve ONE day to manly manliness. Surely there are other guys that watched
Projrun
with a slew of ladies... I got chastised for discussing the hottest model instead of concentrating on the dresses. Well today is
Etsy
Day. People out there making cool handmade products, and putting their cute hipster friends in em. GO!
The people over at
Rockin Bones
are awesome because they actually want the customer to send them pics wearing their clothing... AND want others to vote on the pictures! Fantastic. Bon Voyage! Where's the bus? Oh, it's docking now!
The lady over at
LynnsRags
is getting it right! Got that hot 50s, rockabilly, country gal thing going on that some ladies were to rock shows here in the heart of Texas.
Over at
Ouma Clothing
they are making a slew of party dresses. This party involves a private balcony suite at the carnival! RAD!!
Anyone
making dresses worn by
Dita Von Teese
is a winner in my book. Not sure what this lady is holding, but she looks angry. Angry just right.
She Hit Pause Studios
has some of my fave artwork. Excuse me, miss? You sprawled out across my lawn? Leaving your records out in the sun is really not... nevermind.